Mr. Justice Khadim Hussain M. Shaikh
Hon'ble Judge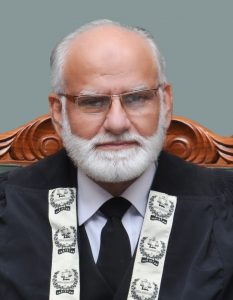 BIO DATA
FATHER'S NAME:                                               MUHAMMAD RAMZAN SHAIKH
NATIONALITY:                                                     PAKISTANI
CNIC NO:                                                              41201-2330776-5
DATE OF BIRTH & PLACE:                                23rd   October, 1958 & Larkana, Sindh
RELIGION:                                                            Islam
PERMANENT ADDRESS:                                 JAGATABAD MUHALLA DADU SINDH.
PRESENT ADDRESS:                                         Bungalow # C-9, HYDERABAD TOWN EXTENSION Phase-I, QASIMABAD HYDERABAD, SINDH.
ACADEMIC QUALIFICATION
Acquired education upto graduation at Dadu Sindh and then did LL.B. at Hyderabad Sindh.
ENROLMENT
i)  AS ADVOCATE OF SUBORDINATE COURTS ON 08.10.1988               REGISTRATION NO. 110/L.C/DADU
ii)  AS ADVOCATE OF HIGH COURT OF SINDH ON 12.01.1991                   REGISTRATION NO. 126/H.C/DADU
iii) AS ADVOCATE OF SUPREME COURT OF PAKISTAN ON 17.07.2010
iv) REMAINED PRESIDENT DISTRICT BAR ASSOCIATION DADU IN 2005
v) REMAINED MEMBER MANAGING COMMITTEE OF D.B.A DADU FOR A DECADE
REMAINED JUDGE HIGH COURT OF SINDH
FROM 03-03-2009 to 30-07-2009
                     AND
FROM 30-10-2015 to 22-10-2020 and then retired as Judge of High Court of Sindh on superannuation.
PROFICIENCY
WELL ACQUAINTED WITH CIVIL LAWS, CRIMINAL LAWS, HUDOOD LAWS, REVENUE LAWS, CONSTITUTIONAL LAW, FAMILY LAWS, BANKING LAWS, SERVICES LAWS, COMPANIES LAWS, EVACUEE LAWS, ELECTION LAWS, RENT LAWS, LABOUR LAWS, ANTI-CORRUPTION LAWS AND LAND ACQUISITION LAWS etc.
As an Advocate appeared in numerous cases which included Civil Matters, Criminal Matters, Labour Cases, Banking Matters, Services Matters, Rent Matters, Family Matters, Anti-corruption Matters, etc, before Supreme Court of Pakistan, High Court of Sindh and various other Courts and Tribunals etc.
AS A JUDGE OF SINDH HIGH COURT
Decided nearly 10000 cases which included Writ Petitions, Criminal Appeals, Criminal References, Criminal Revisions, Civil Appeals, Civil Revisions, Election Matters, Revenue Matters, Banking Matters and Service Matters etc.
AS A JUDGE OF FEDERAL SHARIAT COURT OF PAKISTAN
Took oath as Judge of Federal Shariat Court of Pakistan on 27th of March, 2021.